Child Safety, Wrongful Death Suit & Super Highway
This week is Child Passenger Safety Week, and the US Department of Transportation's NHTSA wants everybody to know the proper ways to buckle children in the car. This also includes knowing correct car seats for their size and age. Hancock Injury Attorneys is all for promoting the safety of children so we wanted to help bring awareness to this cause as well.
"Under the proposal, the federal transportation regulators, rather than states, should be in charge of regulating self-driving cars since the vehicles are essentially controlled by software, not people, administration officials said. States, he said, should stick to registering the cars and dealing with questions of liability when they crash. Read more here.
American Airlines flight 574 traveling from Phoenix to Tampa made an emergency landing at TIA early on Tuesday morning. According to an American Airlines spokesperson, the plane had an indicator light go on in the cockpit prior to landing indicating malfunctioning landing gear. The plane ended up landing normally and passengers exited the plane via the stairs and were driven to the terminal. Everyone was okay, just shaken up as during the flight they were briefed to brace for landing.
Imagine if you could drive from New York to London…on a super highway. Would you do it? Vladimir Yakunin, the head of Russian Railways is proposing this big idea. The superhighway would connect Nome, Alaska to Russia by crossing the Bering Strait, and then it would go through Moscow and end in London.  Dubbed the Trans-Eurasian Belt Development, it would cover 12,910 miles from New York to London.
Jim Carrey's ex-girlfriend Cathriona White committed suicide via an overdose on September 24, 2015. The couple had dated on and off since 2012 leading up to her suicide. In the lawsuit filed on Monday, by White's estranged husband, Mark Burton, it is said that Carrey illegally obtained "highly addictive" drugs under a false name (Arthur King). He then allegedly gave them to White even though he knew she had a history of depression and suicidal thoughts (according to Burton), meaning he played a role in her death.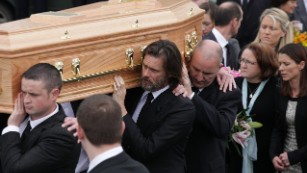 Check back every Friday for our Personal Injury and Car accident News roundup. We cover the latest news locally and nationally related to personal injury.
Injured from a personal injury or car accident? Call attorney Mike Hancock at 813-915-1110 for a free strategy session.