Tampa Personal Injury Attorneys
Mike and Claire Hancock have 30 and 27 years of experience, respectively, in personal injury litigation. They not only work in the Carrollwood community but also live in the community as well as contribute their time to Carrollwood organizations. This includes the Carrollwood Bar Association, the Carrollwood Civic Association and the Carrollwood Area Business Association. As a husband and wife team, Mike and Claire understand the importance of family. They believe they aren't just representing their clients, but their clients' families as well.
Yes, Hancock Injury Attorneys is not a big "advertising" firm that you hear about constantly, and we like it that way. This way we are able to give each and every single client a personalized experience and make sure they feel like they are a part of our family. Why? Because no one protects you more than family. When you come in, you will meet with Attorney Mike Hancock; not a paralegal or assistant. He will be involved in every single part of your case along with Attorney Claire Hancock if your case proceeds into litigation. You should always feel welcome to call Attorney Mike Hancock but hopefully you feel like you will not have to, as our goal is always to keep you updated to the fullest extent with the assistance of our experienced paralegals.
Below are just a selection of the honors and awards Hancock Injury Attorneys have received. For more information on our individual lawyers Mike and Claire Hancock, click here.
AV-Preeminent* Rated Tampa Personal Injury Attorney
Mike Hancock has earned the AV-Preeminent* rating for legal proficiency and ethical standards from Martindale-Hubbell and lawyers.com. The Martindale-Hubbell® Peer Review Ratings™ are an indicator of a lawyer's high ethical standards and professional ability based on the confidential opinions of local attorneys and judges. An "AV" rating is the highest possible rating and means that the lawyer has been rated by other attorneys and judges in terms of professional ability and professional ethics. Only 5% of attorneys in the US have this rating.
Law Firm 500 2016 Honoree- One of the Fastest Growing Law Firms in the Country
Hancock Injury Attorneys was recently honored as one of the fastest growing law firms in the country. Please check out the press release and more information by clicking here.
Florida Super Lawyer
In 2011, 2012, 2013, 2017 and 2018, Mike Hancock was named one of Florida's SuperLawyers. Only 5% of Florida attorneys are chosen each year for this distinctive honor. Florida's SuperLawyers are attorneys who undergo a statewide nomination process, independent research on each candidate and then recognition by other attorneys and judges for the excellence of their legal skill.
Million Dollar Advocates Forum
Mike Hancock is a proud member of the Million Dollar Advocates Forum – recognition for the numerous verdicts and settlements in excess of $1 million that the Tampa personal injury attorneys at Hancock Law Firm have obtained for our clients. Please see our client testimonials and examples of our notable verdicts and settlements.
Tampa's Top Rated Lawyer
 In 2016 and 2012, Mike Hancock was named one of Tampa's Top Rated Lawyers. Tampa personal injury attorneys are chosen for inclusion based solely on a vote of his or her peers, earning the distinction of reaching the highest level of ethical standards and professional excellence. Attorney Mike Hancock was voted one of Tampa's Top Attorneys for Plaintiff's Personal Injury Litigation. The list of 132 lawyers was peer-selected by over 11,000 attorneys across Tampa Bay and includes only four Plaintiff's Personal Injury Litigation attorneys.
Top 100 National Trial Lawyers
The National Trial Lawyers is a professional organization composed of the premier trial lawyers from across the country who exemplify superior qualifications as civil plaintiff or criminal defense trial lawyers. This national organization provides networking opportunities, advocacy training, and the highest quality educational programs for trial lawyers.
America's Top 100 Attorneys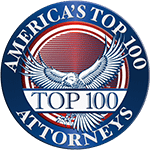 Membership among America's Top 100 Attorneys identifies and highlights the accomplishments of the nation's most esteemed and skilled attorneys in all areas of practice. Only 100 attorneys in each state recieve this honor. Mike Hancock is a lifetime award recipient. Candidates for membership are initially identified through third-party research or peer nominations by other elite attorneys in the community. Once a candidate is identified, they are carefully screened through third-party research and analysis involving proprietary algorithms applying multi-criteria decision making methods to create a Pareto efficiency frontier. These algorithms assess a broad array of criteria and data for each candidate, including (but not limited to) the attorney's lifetime legal achievements, professional experience, significant case results and/or verdicts, peer reputation, client satisfaction, other notable honors, media notoriety, and community impact, among many other proprietary factors.- America's Top 100 Attorneys Website.
Lead Counsel Rated
The Lead Counsel Verification was established in 1997 as a quality assurance tool consumers and businesses can use to quickly and easily evaluate a prospective attorney's ability and credibility. When you see the Verification, you can be assured the attorney has met strict qualification standards that include:
Professional Experience
Peer Recommendations
Spotless Disciplinary Record
CNBC
Featured in an article on CNBC for Attorney Claire Hancock's business advice on how to stay organized and multitask in a high-demand career. Read the article here.
A+ Rating from the Better Business Bureau
Hancock Injury Attorneys received an A+ rating from the Better Business Bureau (BBB) for our excellent reputation and our commitment to make a good faith effort to resolve any consumer complaints.  Factors that have raised Hancock Law Firm's rating include the length of time we have been operating, since 1996, that no complaints have been filed with the BBB and that the BBB has sufficient background information to grant this highest rating.
Experienced Personal Injury Lawyers
We are compassionate and caring. When you contact the Hancock Injury Attorneys, about your personal injury claim, Mike Hancock will speak with you personally or answer your questions by e-mail. Mike Hancock will evaluate your claim, provide guidance and take as much time as necessary to thoroughly answer all of your questions.
We are smart. We know that we can't simply bully our way into results by shouting "we are aggressive" or "we are tenacious." Insurance companies and the attorneys they hire aren't impressed with such advertising or slogans. Investigation is important. Preparation is necessary. Strategy is critical. Experience counts. With more than 28 years of experience on both sides of personal injury claims, Tampa personal injury attorney Mike Hancock knows how to successfully achieve justice in your personal injury, wrongful death, sinkhole and insurance claims.
We are strong. Our record of success is known throughout Florida. Our opponents respect our reputation and take us seriously. They know that we go into every case with the goal of achieving justice and holding the negligent parties and their insurance companies accountable for the harms and losses they inflicted. We strive to achieve nothing less than full compensation for our clients.